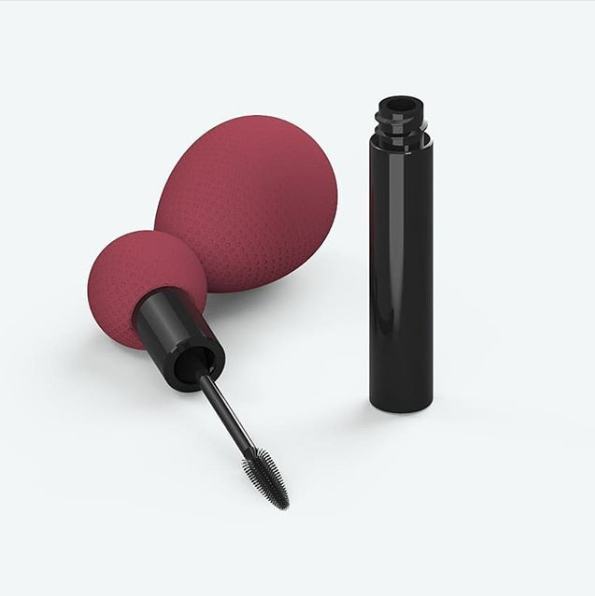 Living with a disability can make tasks that may seem ordinary frustrating, time-consuming and arduous, proving the makeup and skincare communities still have their work cut out when it comes to accessibility. Now available for pre-order with free worldwide shipping and returns, Grace Beauty is filling that gap, launching with a selection of mascara brushes designed for "all kinds of users", featuring designs that aims to alleviate some of the obstacles associated with your archetypal mascara.
The Safe Grip is designed for an easier hold, featuring a spherical design reminiscent of a vintage perfume atomizer. "Material is rubbery, flexible but hard which will ensure a grip even though the fingers can't wrap fully around the grip," the brand writes on their Instagram page.
The Square Grip, on the other hand, aims to make the product easier to open, featuring a geometric shape on both ends of the bottle.
Lastly, an add-on Ring Grip hopes to eliminate the inherent exasperation that goes along with repeatedly dropping a product.
So far, the response on social media has been enthusiastic, to say the least. "I have rheumatoid arthritis which has left me with carpal tunnel, holding mascara and brushes hurt big time," commented one user. "Thank you for coming up with helpful aids so women everywhere can still do their make up and feel good about themselves whilst being comfortable." Another user wrote, "I have MS and refuse to give up on my make up even when I have a relapse, this is going to be a game changer!" The brand has promised to continue to release more products on Instagram in the coming days.
"Anyone, regardless of ability, should be able to use any beauty product they want to," their website reads. That's about all we know about Grace Beauty so far—aside from the fact that they've got some sleek millennial-friendly marketing going on—but theirs is definitely a message we can all get behind.