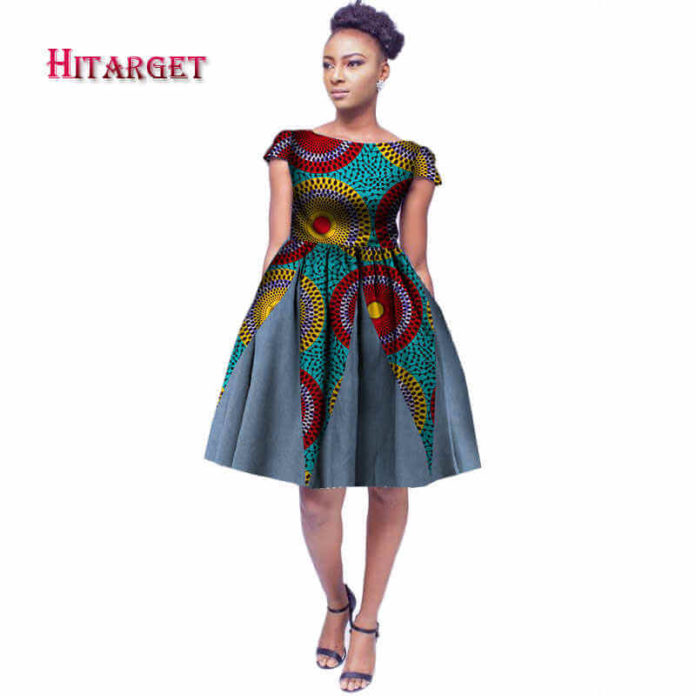 Most people are too caught up in choosing the right Ankara dress styles that they forget the very foundation- the fabric.
When you conceive a style or see the style on someone else and decide to sew, a lot of things come to play. But, the first question you should ask is what fabric the person is wearing. It isn't enough to just like it.
You have to be inquisitive if you want your desired results, whether it's pants, gowns, blouse, or suit. You cannot recreate a style if you don't know the exact specifications.
So, what are the possible fabrics for your Ankara dress styles?
Cotton: Contrary to popular misconception, all cotton isn't the same. They usually come in two textures: Cotton lawn and cotton voile. Cotton voile has a great drape, plus it's lightweight and a little bit sheer.
It is normally used for dresses, blouses, and gowns because it can be easily manipulated. Cotton lawn is almost the same with voile, only that it's a bit crispier. So, it's rarely used.
Denim: This material is very heavy. It's often used for jackets, shorts, pants, short gowns. It has no drape and stretches a little bit. Newer textures of Ankara coming into the market right now can stretch better than the former ones. These cannot be used for Ankara dress styles.
Chiffon: This has drape and is extremely lightweight. This is one of the most versatile fabrics that have ever existed, and it lasts for a very long time. It is often combined with other materials like nylon, fur, and chiffon. It can be used for skirts, flowing kimonos, gowns, jumpsuits, etc.
Ankara material: This is one of the best fashion investments you can ever make. The brightly patterned material is so stylish, and it makes the owner very elegant. It can be made into short, long, and medium length dresses. Note that it doesn't drape or stretch, so if you're considering sewing pants, you may want to give some space to avoid excessive tightness.
Lace: This is often paired with satin to make traditional marriage dresses. Laces can never go out of fashion. It has a little drape, and can be made into gowns, dresses, skirts, etc.
Satin: The texture of this material is soft and smooth. Plus, it's medium-weight. Satin is often the best choice for wedding dresses, especially bridal trains. It can also be used to sew jumpsuits, pants, blouses, skirts, and pants.
Silk: Silk is very lightweight and delicate. Its texture is very smooth, and it has great drape. It is mostly used for vest inner tops, kimonos, gowns, and blouses (yeebia).
Linen: The pretty thing about this linen material is that it comes in different patterns and colors. It stretches a little bit and is a very good conductor of heat. It works best for flowing kimonos and palazzos, but can also be used to sew pants and skirts.